History Of DUPATTA
DUPATTA
The Muslim culture of Hyderabad refers to the culture associated with Muslims of Hyderabad State, India. With its origins in the Muslim Deccan sultanates, the culture became defined in the latter half of the reign of the Asif Jahi dynasty in Hyderabad. The culture exists today in Hyderabad and among the Hyderabadi Muslim diaspora around the world, in particular, Pakistan, Saudi Arabia, the Arab Gulf states, USA,
and the United Kingdom.
The Deccan plateau acted as a bulwark sheltering South India from the invasions and political turmoil that affected North India. This allowed the Muslim-ruled state of Hyderabad State to develop a distinctive culture during the Qutb Shahi dynasty and later the Asaf Jahi dynasty of the Nizams.
The Nizam was the Muslim ruler of the vast princely Hyderabad State. While the state's major population was Hindu, the capital city of Hyderabad was primarily Urdu-speaking Muslim until the Independence of India and subsequent rise to dominance of Telugu-speaking people of Andhra. The state's economy was agrarian, and Hyderabad was primarily a government and administrative hub, run mostly (but far from exclusively) by Muslims. The aristocracy, jagirdars (wealthy landowners), and even minor government officials could afford to hire servants, usually also Muslims, in a social order similar to the class system of Victorian England. The Nizam allied himself with the British early on, with ensuing political stability. The Muslim upper and middle classes were free to concentrate on a care-free and leisurely lifestyle involving clothes, jewelry, food, music, literary arts, and other indulgences, little of which trickled down to the servant class, known as naukar (a word originally used for the Mughal Emperor Babur's closest feudal retainers).
The relative isolation of Hyderabad until Independence, its distinctive dialect of Urdu and the strong web of interconnecting family relationships that characterizes Hyderabadi Muslims sometimes leads to charges of parochialism from other Indian Muslim communities, but it also ensures a Hyderabadi Muslim identity endures among the Indian diaspora.
The Khara Dupatta
(standing veil) is an outfit composed of a kurta (tunic), chooridaar (ruched pair of pants), and 6 yard dupatta (veil) and is traditionally worn by Hyderabad brides. Sometimes the kurta is sleeveless and worn over a koti resembling a choli. The bride also wears a matching ghoonghat (veil) over her head. The accompanying jewellery is:
Tika (a medallion of uncut diamonds worn on the forehead and suspended by a string of pearls)
Jhoomar (a fan shaped ornament worn on the side of the head)
Nath (a nose ring with a large ruby bead flanked by two pearls)
Chintaak (a choker studded with uncut diamonds and precious stones)
Karan phool (earrings that match the Chintaak and consist of a flower motif covering the ear lobe and a bell shaped ornament that is suspended from the flower. The weight of precious stones and gold in the Karan phool is held up by sahare or supports made of strands of pearls that are fastened into the wearers hair.)
Satlada (neck ornament of seven strands of pearls set with emeralds, diamonds and rubies)
Ranihaar (neck ornament of pearls with a wide pendant)
Jugni (neck ornament of several strands of pearls with a central pendant)
Goat (Shellac bangles studded with rhinestones and worn with gold colored glass bangles called sonabai)
Payal (ankle bracelets)
Gintiyan (toe rings)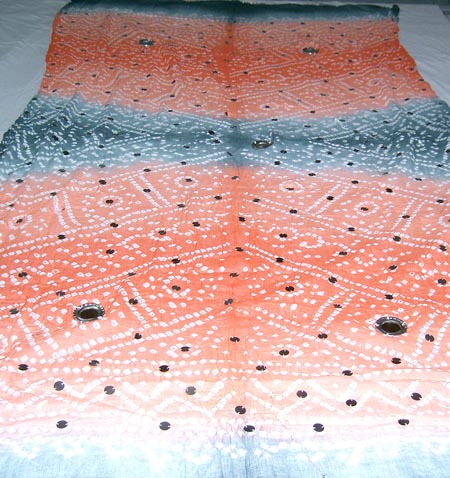 Thanks 4 Visit My Web Site